After five years of fight, Katy Perry offered peace to his now exarchienemiga, Taylor Swift. The past between the two divas of pop had been tainted by an alleged sabotage of Swift Perry when the singer of Shake it off tried to steal dancers from the tour of Katy.
This was always the story of Perry, even just a year ago, and after the "poisonous" single that was dedicated to Taylor, Swish Swish; Katy explained well his fight public.
However, yesterday everything seems to have ended, as in full preparations for their tour Reputation, Taylor Swift surprised her with stories of Instagram when she shared the sacrifice of the peace offerings sent to Katy Perry. Simply this, we didn't see coming and now the epic moment has crippled Twitter.
Peace agreements
Today, the 8th of May in the year 2018, in addition to being the day of the first show of the reputation tour, it was also the day in which we witnessed the peace agreement between Katy Perry and Taylor Swift. Did not expect this, but I'm more than satisfied.

— Jazz does not exceed IW 🇸🇻 (@swiftsabers) May 8, 2018
Let us remember that less than a year ago Perry had declared the war to be Swift with the simple Swish Swish. What did you do to change the feelings of Katy? Perhaps the reason is that less amount, is evident here that the one who wins is the friendship.
Taylor shared in an all in one history of Instagram
[embedded content]
The singer of Shake it off replied to Katy:
I just got to my dressing room and I found this crown of olive. This means too much for me.
Fans have deciphered the message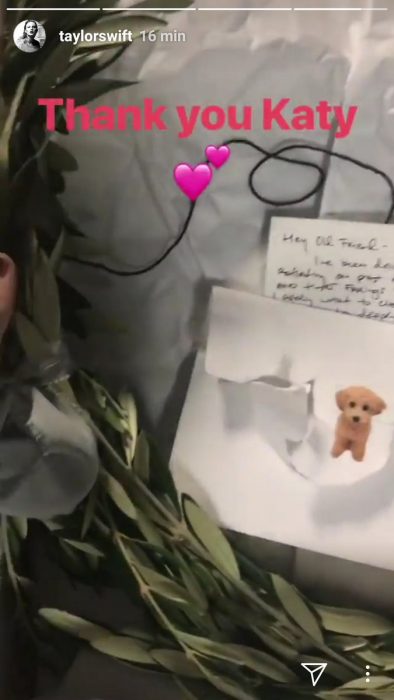 Crowns of triumph or olive oil are known as a symbol of peace around the world, it is an offering that used to be delivered between enemy armies, they were defeated and asked for the truce. Katy Perry proved not to have time for metaphors, this time he used an example LITERAL. This he said in the letter:
Hello, old friend. I've been thinking about past misunderstandings and feelings between us. I would like to turn over a new leaf.
That's not the saw this coming
I after seeing the end of the fight between Katy Perry and Taylor Swift. pic.twitter.com/QGzUsrKvie

— 👁️🗨️Mr. Barajas👁️🗨️ (@Cago_Arcoiris) May 8, 2018
Do we ever see them together? It would be incredible.
No more #BadBlood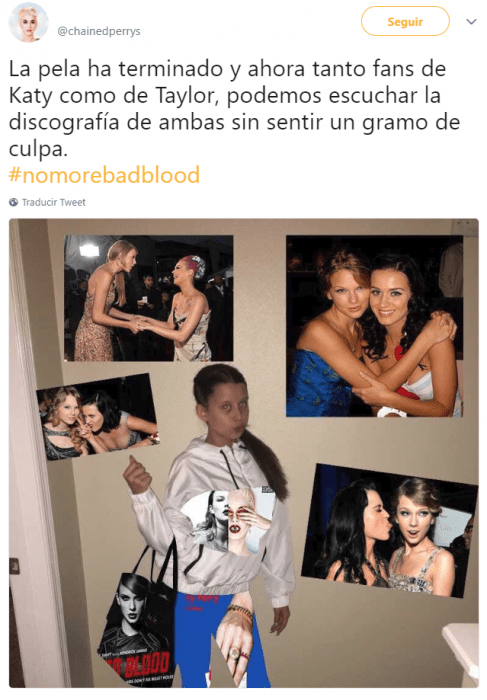 Five years of fighting, Bad Blood, Swish Swish and attitudes of Regina George could not end this friendship.