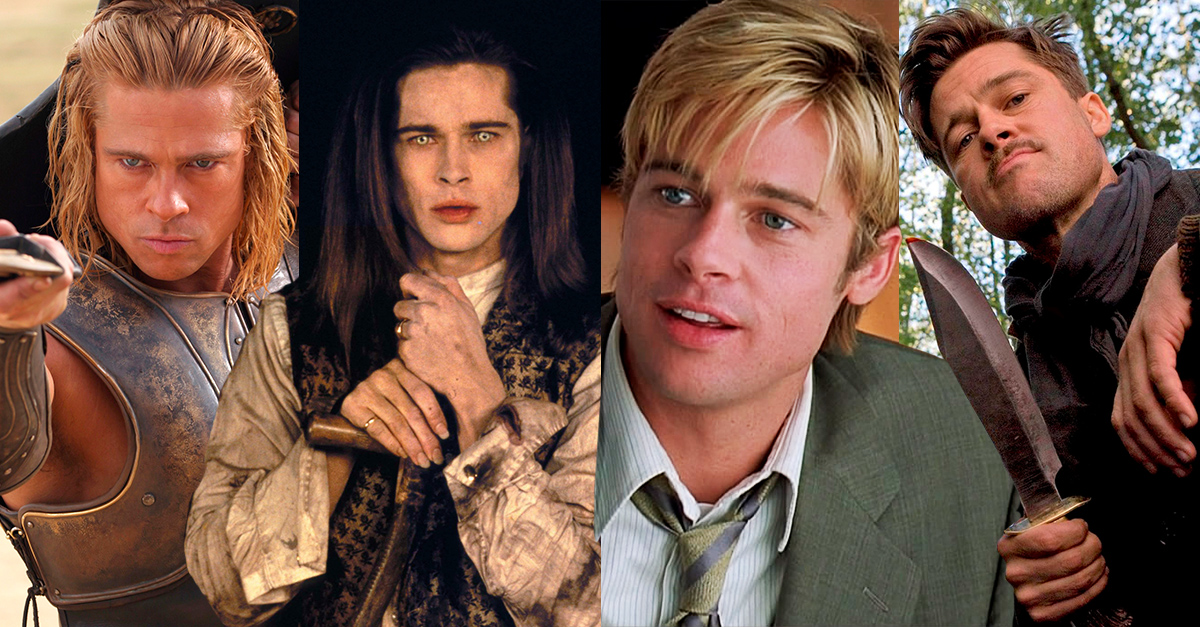 Brad Pitt became a sex symbol in the nineties and as time went on finished be consecrated as one of the best actors in contemporary. He is a man who has had various roles in his career, with characters that contrast each other and today is known as one of the stars most talented in the world of cinema.
If you are also a fan of this amazing man, then we are sure that you will enjoy our selection of movies where Brad shows that not only is a pretty face but a great performer. It is so chameleon-like that you would not imagine.
1. Cool World – 1992
[embedded content]
It is one of the first films of Pitt. Taking advantage of the technology of the time had to act with characters that were not there and were added digitally after the filming.
2. Interview with the Vampire – 1994
[embedded content]
Plays the sweet vampire Louis, accompanied by a cast magnificent composed by Tom Cruise, as Lestat; Kristen Dunst, Claudia, and Antonio Banderas as Armand.
3. Legends of the Fall – 1994
[embedded content]
Brad plays Tristan, an adventure lover, a rebellious boy who falls in love with the same woman that their brothers and sisters. To avoid problems decides to get away from his forbidden passion and embarks on a journey in search of new emotions.
4. Seven – 1995
[embedded content]
It is one of the films most serious of Pitt in which he plays detective David Mills. In this production, demonstrates his skills as actor. After seeing it only think in your sentence:
What's in the box? (What's in the box?)
5. 12 Monkeys – 1995
[embedded content]
In this film becomes a character mentally unstable, their gestures and expressions are incomparable. You will believe that is really crazy.
6. Seven Years in Tibet – 1997
[embedded content]
Pitt plays an adventurer named Heinrich Harrer, a mountaineer austrian man who was confined to a concentration camp in India. Manages to escape and finds refuge in Tibet, where he becomes friend of the Dalai Lama.
7. Meet Joe Black – 1998
[embedded content]
In this film, Pitt is death that takes the body of a boy in the hospital and gets in front of the millionaire Willian Parrich with the name of Joe Black. A character is very mysterious and at the same time sensual.
8. Fight Club – 1999
[embedded content]
This gem of David Fincher not only shows Pitt with a torso masterfully sculpted, you'll also be able to enjoy his performance as the alter ego of the protagonist. Will make you question life, capitalism and the rules.
9. Snatch – 2000
[embedded content]
This time Brad plays a gypsy boxer with an accent of the most fun. You'll be able to enjoy your torso perfectly defined and choose which is your favorite.
10. Spy Game – 2001
[embedded content]
Plays Tom Bishop, who is accused of espionage and will be executed in 24 hours. One of his colleagues, Nathan Muir (Robert Redford), you must take a risk to save the life and prevent the murder.
11. Ocean's Eleven – 2002
[embedded content]
This film is the first part of a trilogy of scams teachers. Brad plays Rusty Ryan that he should help his partner criminal, Danny Ocean (George Clooney), to steal simultaneously the casinos Bellagio, Mirage and MGM Grand.
12. Troy – 2004
[embedded content]
Do list to enjoy the warrior more fierce: the Achilles? Is the film in which Pitt looks a physique more muscular and defined than ever before. Is perfect for to sigh for hours while you look to deploy their strength and gallantry.
13. The Curious Case of Benjamin Button – 2008
[embedded content]
Benjamin Button is not a child like the others, instead of aging, rejuvenates. This movie shows you the versatility of Pitt and makes you admire the work of the team makeup. It is the story of a life full of peculiarities and love.
14. Inglorious Basterds – 2009
[embedded content]
Pitt gives life to Aldo Raine, the leader of a group of soldiers, whose only goal is to assassinate Hitler and to the officials of the Third Reich. You will hear him speak a little Italian.
15. Fury – 2014
[embedded content]
The filmography of Brad is extensive, in this production also embodies a soldier. Pitt is in charge of a crew of five brave soldiers and a war tank. Should be introduced in european coasts, and try to survive to the nazi troops. It is a film very crude that will leave the skin of chicken.