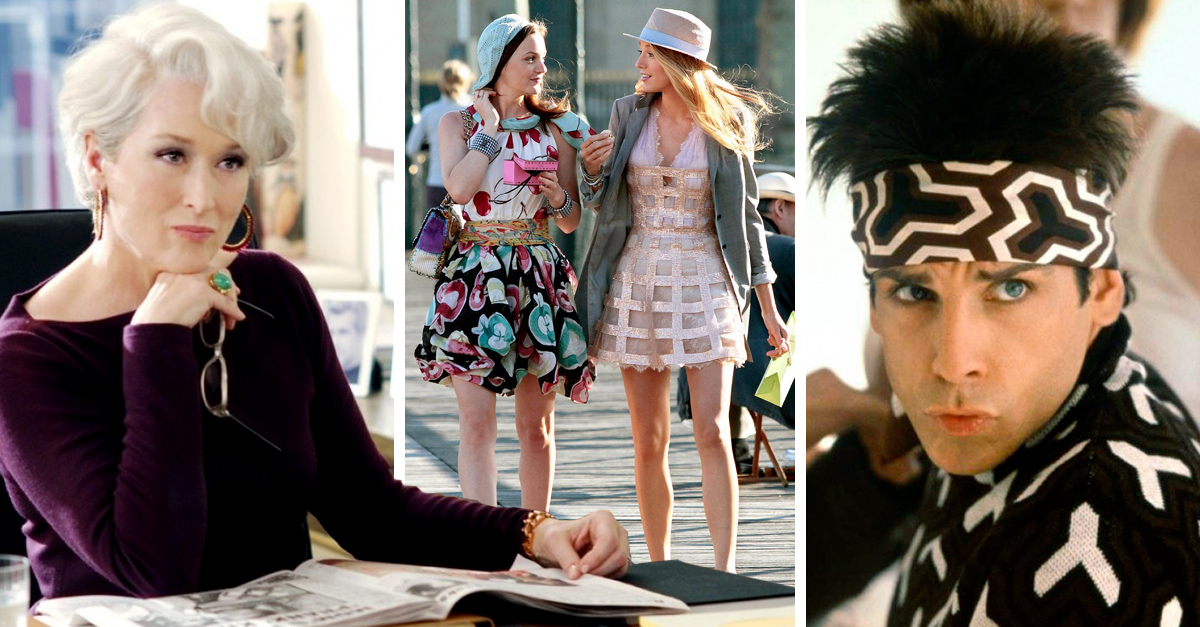 When it comes to the magic of cinema, the costume design plays a particularly important role in the creation of memorable characters. This is why it is said that fashion and film go hand in hand.
If you are a lover of fashion, these films and tv shows will make you spend an excellent weekend. Whether for inspiration or just to admire the amazing costumes, not the miss.
1. The seamstress
[embedded content]
The story of a girl who thanks to the fashion change the way of thinking of an entire people.
2. Almost Famous
[embedded content]
Because all of the trendy boho that you have seen in the last few seasons has been inspired by this film.
3. Clueless
[embedded content]
This film offers you a complete catalogue of the fashion of the 90's. Mini plaid, long socks…
4. The Devil Wears Prada
[embedded content]
This tape will give the best fashion guide.
5. Coco before Chanel
[embedded content]
This biopic chronicles the life of Gabrielle Coco Chanel, before becoming a designer. Those years were hard, but forged his career in the world of fashion.
6. Zoolander
[embedded content]
There is No film that has not been treated with more accuracy the world of fashion and models, with irony, sarcasm and humor.
7. Shopaholic
[embedded content]
Rebecca Bloomwood is a young journalist from New York city addicted to shopping. She loses her job at a gardening magazine, but for his ability in the world of fashion, casually, you get to write in a financial magazine giving tips for saving.
8. Gossip Girl
[embedded content]
Gossip and intrigues 2.0 in the city of New York with outfits winter and autumn designer to steal your breath. Ah, of course! An interesting plot and far-fetched also.
9. The time between seams
[embedded content]
A miniseries in Spanish that tells the story of a girl who was always a tailor. The love and her decisions lead her to Morocco, where it ends without a passport, without love and without hope. There should begin to rebuild his life.
10. The Carrie Diaries
[embedded content]
A series about Carrie Bradshaw as a teenager in the 80's. Colorful clothes, grow with friends, problems of teens and all before there was Sex and the City.
11. Velvet
[embedded content]
A Spanish series that takes place in the Galleries Velvet, the most important store of haute couture in Madrid.
12. The edition of September
[embedded content]
Documentary that shows to Anna Wintour, the iconic editor of Vogue, and his team during the creation process of the exemplary September 2007, which was 840 pages and almost 2.5 k weight.
13. Teaching of life
[embedded content]
Set in the 50's and 60's in London, tells of the induction of Jenny in adult life through his own transformation from schoolgirl to glamorous dresses, coats, gloves and jewelry.
14. Girlboss
[embedded content]
Sophia Amoruso has spent his years of adolescence by hitchhiking, committing petty theft and begging among garbage dumps in search of scraps of food. When he meets 20 years, he studies, is in bankruptcy and accepts a job, checking identification of attendees to an art school. It is here when you decide to start selling clothes through eBay.
15. America's Next Top Model
[embedded content]
Continues to Tayra Banks in their journey of many seasons by seeking out and helping young, beautiful and talented to win a contest that consists of several tests of the model and in the playoffs.