For more than 3 decades, Chris Porsz through the streets of Cambridgeshire, in Britain, and captured hundreds of images that appear all kinds of characters in the everyday environment of the city. Paramedical profession, Porsz was always an amateur photographer, but years later he left.
Almost 40 years later, he found his photographic archives by accident and had the idea of looking to the players to make a new collection to show the passage of time, recreating the same scene 30 years later. This is the incredible result.
1. guys running (1987 and 2016)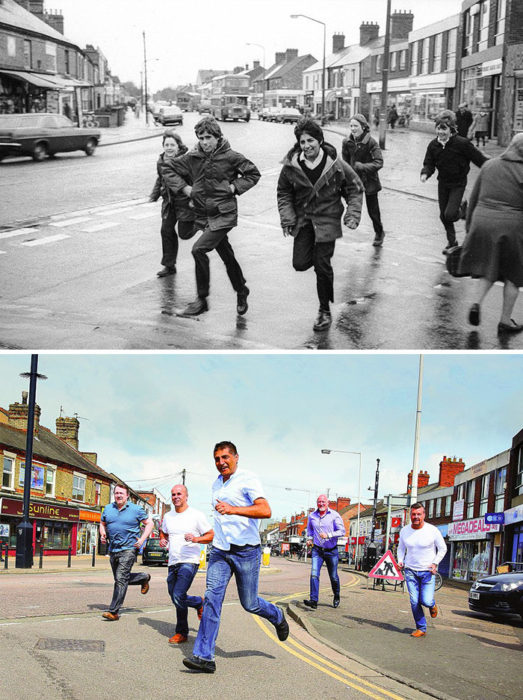 Andy, Richard, Tony, Aaron and Devinder part of the group of captured men as they ran down the middle. The image below which was re-created almost 30 years later.
2. pink Mohicans (1985 and 2016)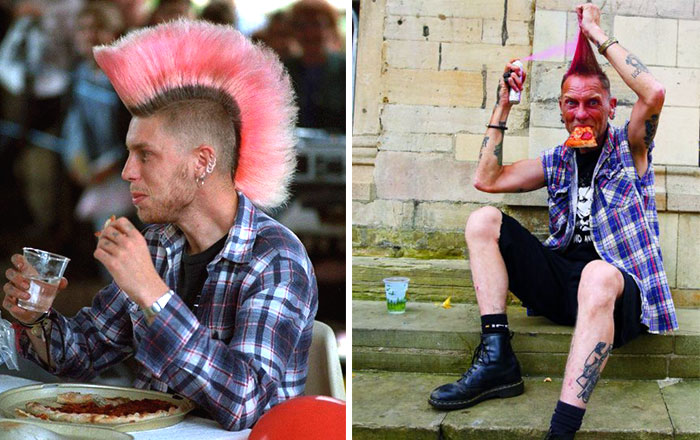 In a changing world, like the above images represent a breath of fresh air. Badger Farcue was a boy  punk who was captured while participating in a pizza eating contest. Now is the father of 5 children … and retains the look of those years.
3. Kiss on the train station (1980 and 2009)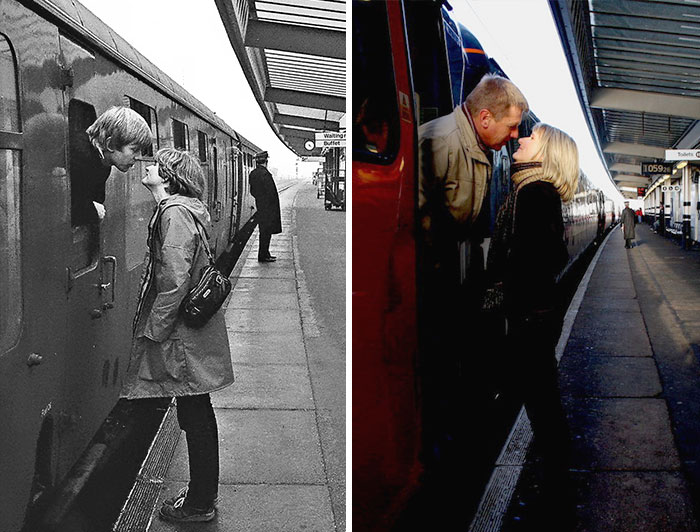 When the photo was taken, Tom was 22 and 21. Sally gave off as the returned to Essex, where he worked as a teacher. A year later they were married and are now parents of two boys who also around 20 years.
4. Schoolgirls (1979 and 2016)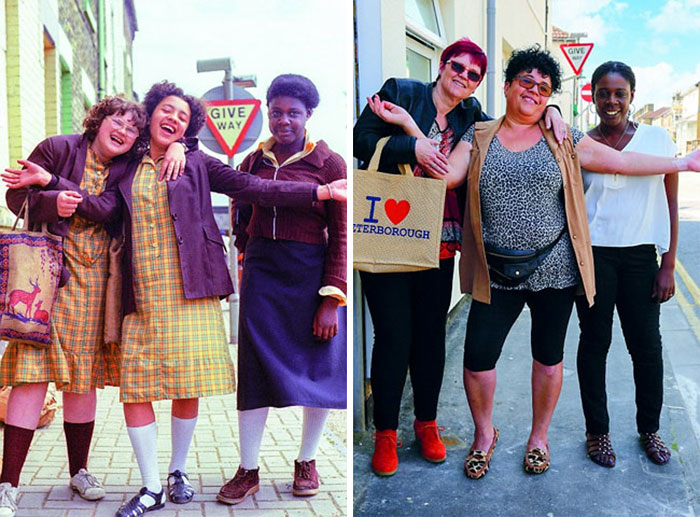 Sandra, carmen and Maureen were friends at school, but as often happens, over the years lost contact. Some moved to nearby cities, but for all was a nice reunion.
5. Dog and Tina (1985 and 2015)
Dog and Tina were a couple of punks in the 80s and were photographed near Peterborough Cathedral when she was 18. They are the parents of twins although they are no longer together as a couple.
6. Before and after 40 years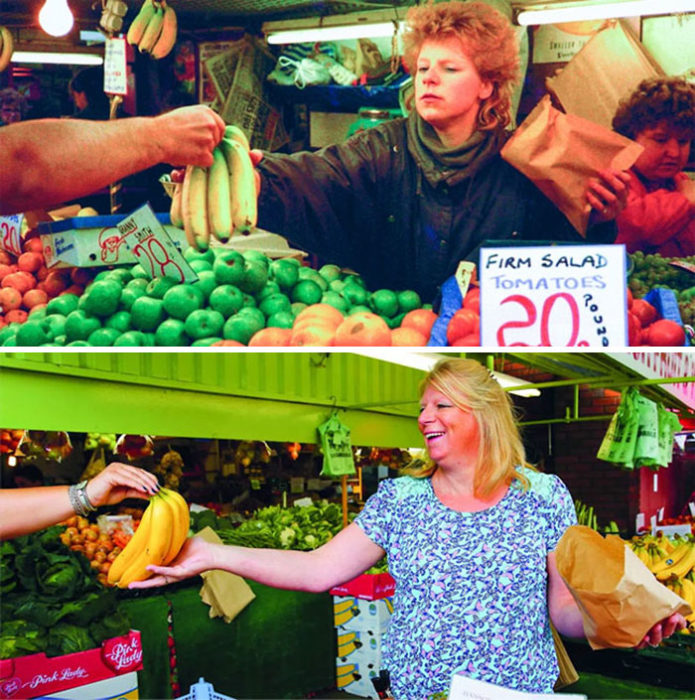 The image woman still loves bananas.
7. Sisters in the window (1980 and 2013)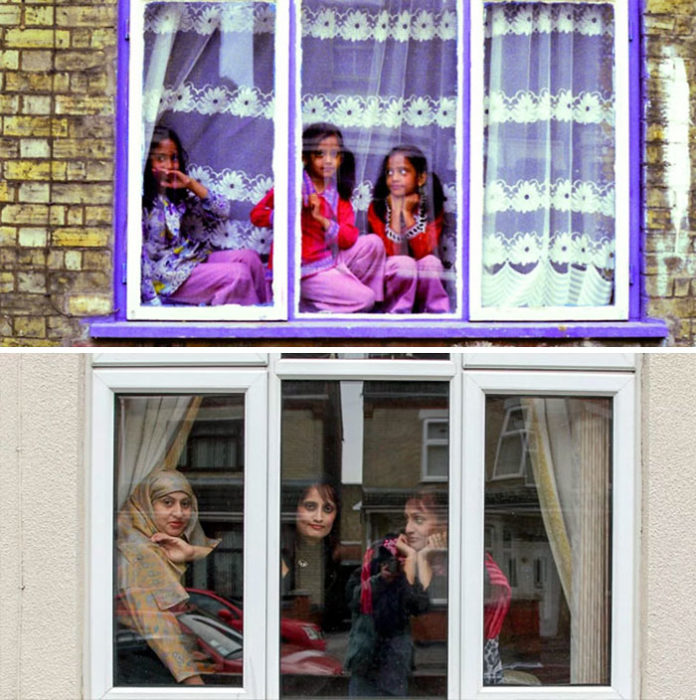 The Shehnaz, Rukhsana and sisters Itrat appear on the other side of the window in this portrait.The three live in the same city and are seen frequently.
8. Trudi and Dave Talbot (1980 and 2010)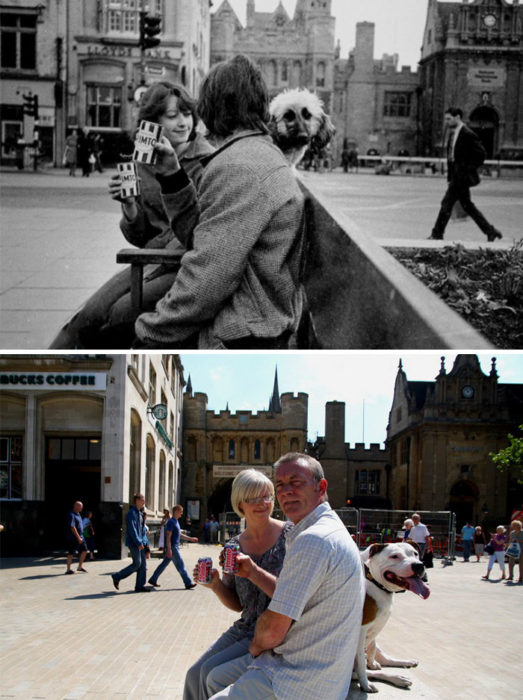 It seems that only the pet has changed after 30 years.
9. A dose of calcium (1983 and 2014)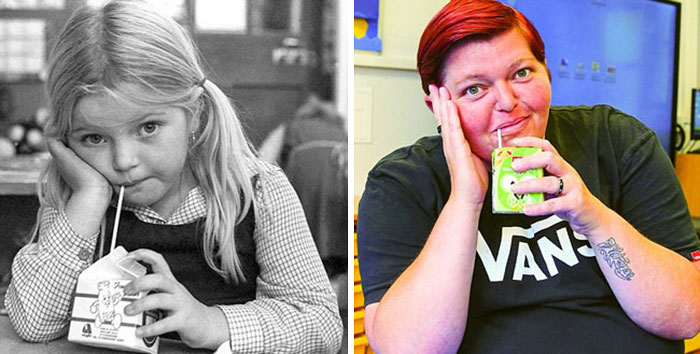 Layla was portrayed while taking milk from a carton in his nursery. Still likes milk, is married and has two children.
10. Five boys (1980 and 2011)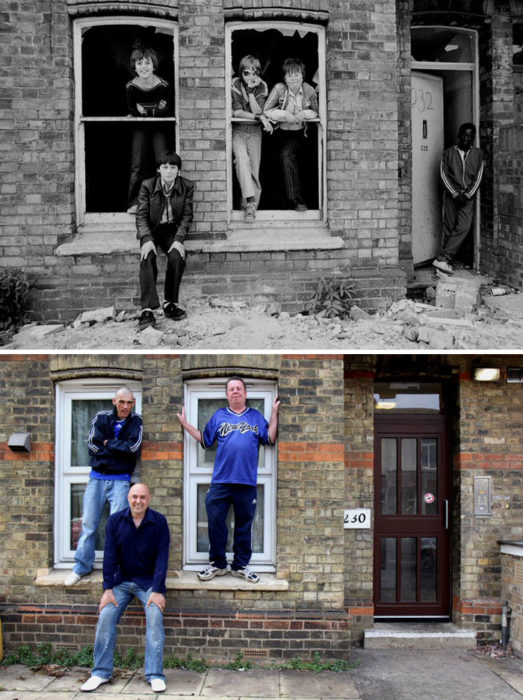 Stuart, Phillip Martin, Ricky and Christopher shown in the first image. Martin was unavailable for the second picture and Christopher, who appeared at the foot of the door, passed away.
11. Amigas (1982 and 2011)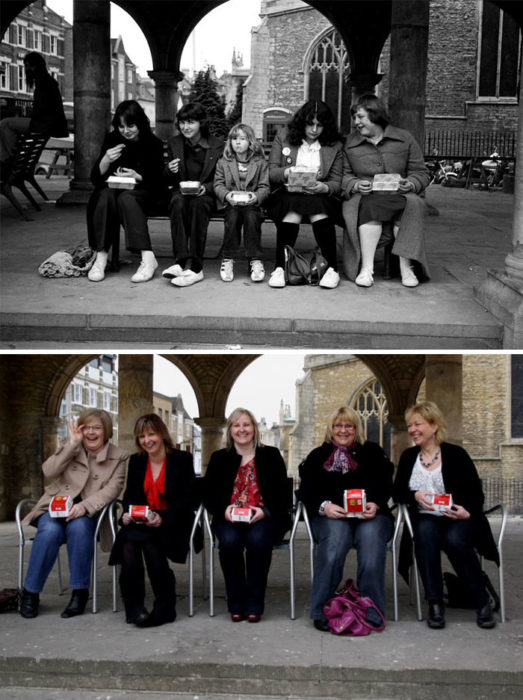 Penny and Sarah, Carol and Juliette Louise and sisters were portrayed near the cathedral. In the image below, Alison (right) replaced her sister Juliette, who died some years ago.
12. Metal Mickey (1980 and 2016)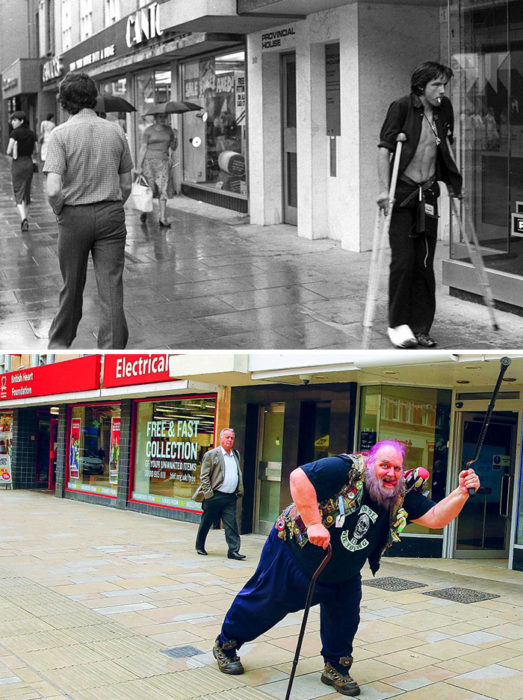 Steve Osborn is better known as 'Metal Mickey' and 36 years broke both legs in different motorcycle accidents. Now use a cane to walk, she has 4 children, plays guitar in different bands and has gathered more than 20 thousand pounds for the National Association for Bikers with Disabilities.
13. Ice Cream Seller (1980 and 2014)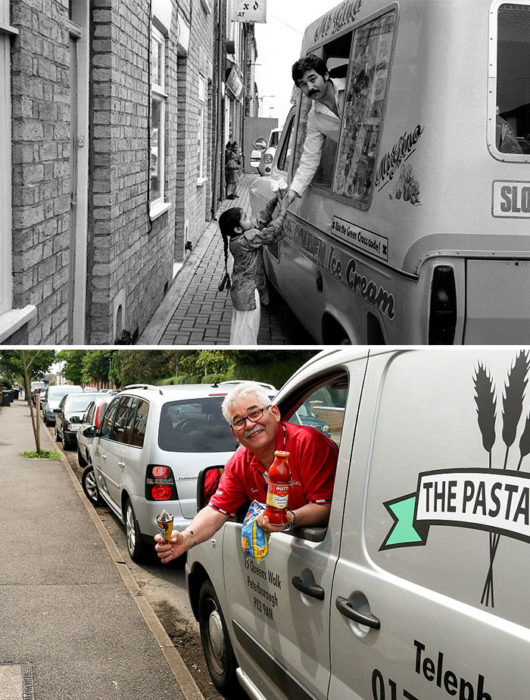 Gino Borillo selling ice cream when he first arrived from Italy to the English city. Years later, married, he has 3 children, 4 grandchildren and now has a pasta business he runs with one of his daughters.
14. Waiting for the phone (1981 and 2016)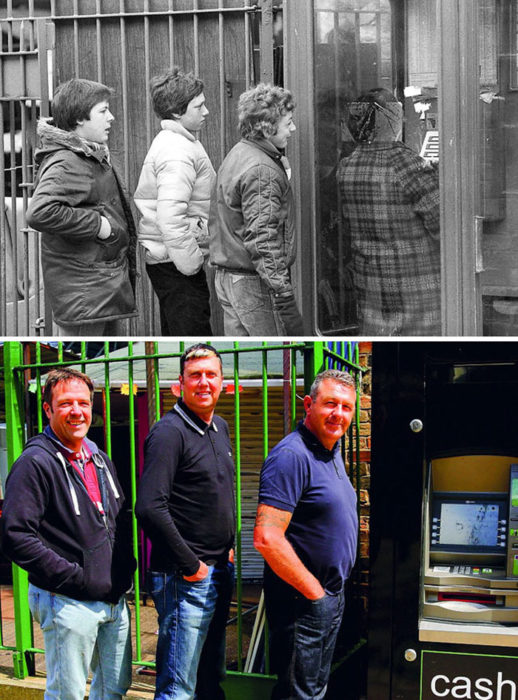 Classmates and school friends, John, Paul and Andrew were outside the phone booth waiting for their turn when they were portrayed. They had not seen in 32 years until the second picture.
15. Children with ice cream (1981 and 2015)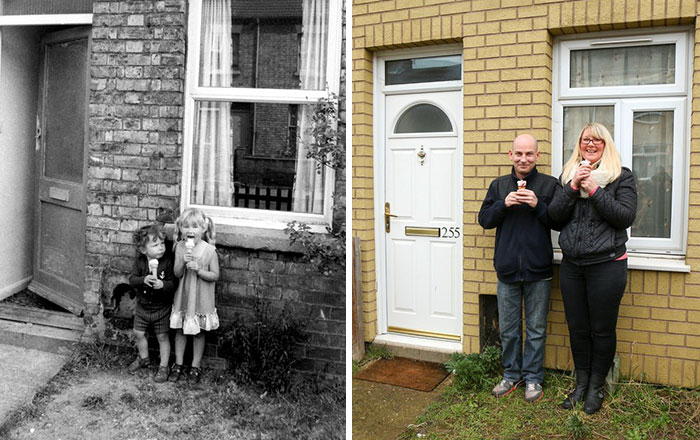 Dona Yarnell and his brother were 5 and 3 years respectively at the time of the photo. Both live in the same city and are parents.
16. Butcher (1980 and 2015)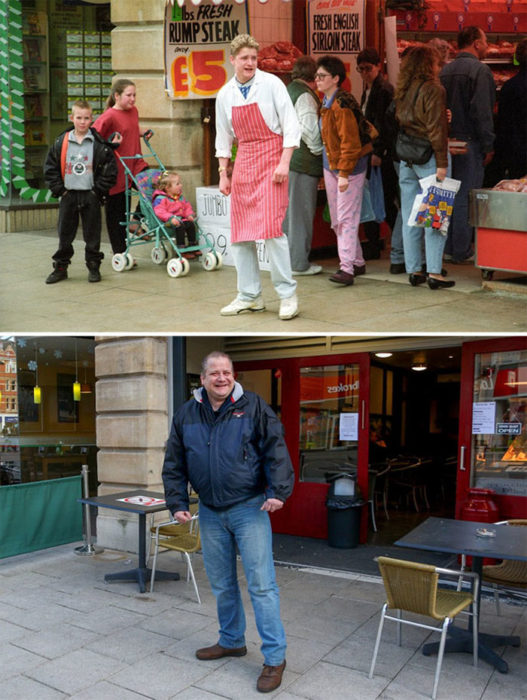 Richard left school at 15 and began working in a butcher shop. Still he lives in the city and now the carnage is a cafeteria.
17. Young (1970 and 2013)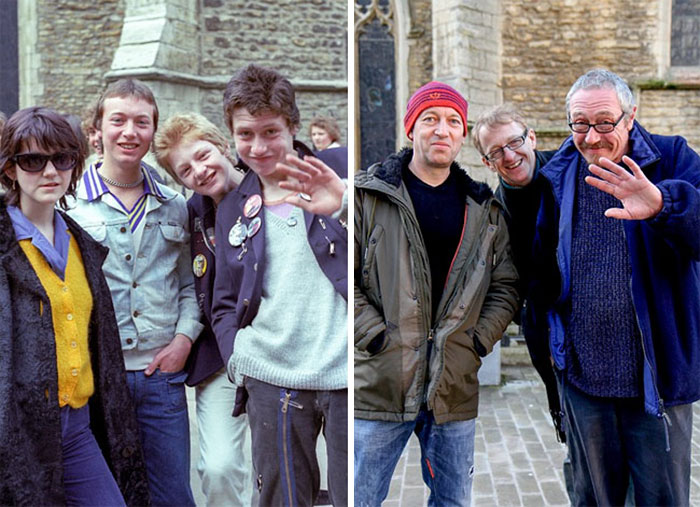 Pippa, Ade, Gary and John were captured near the cathedral wearing jackets with pins,  as was the fashion in those years. John is now a painter and decorator; Ade him and play together in a band, Gary Pippa emigrated to Australia and now lives in Spain.
18. Aesthetics (1980 and 2016)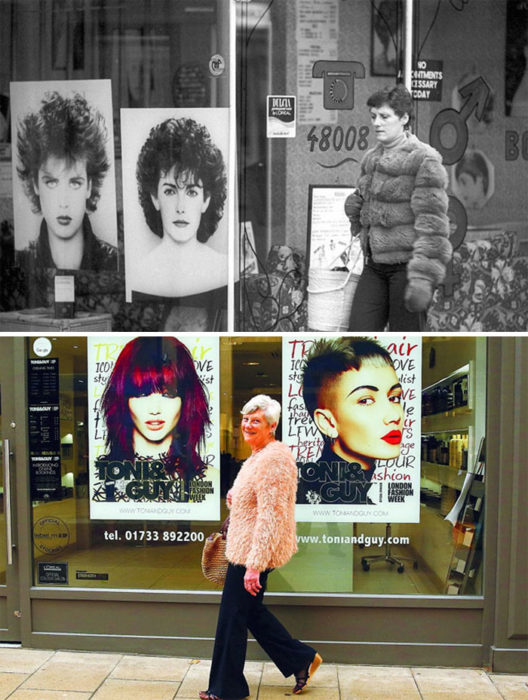 Sandra was portrayed with a fur coat and gloves as she headed to aesthetics. Now a widow, has a daughter and three grandchildren. The aesthetic changed owners and is now called Tony & Guy .
19. Star Road  (1982 and 2014)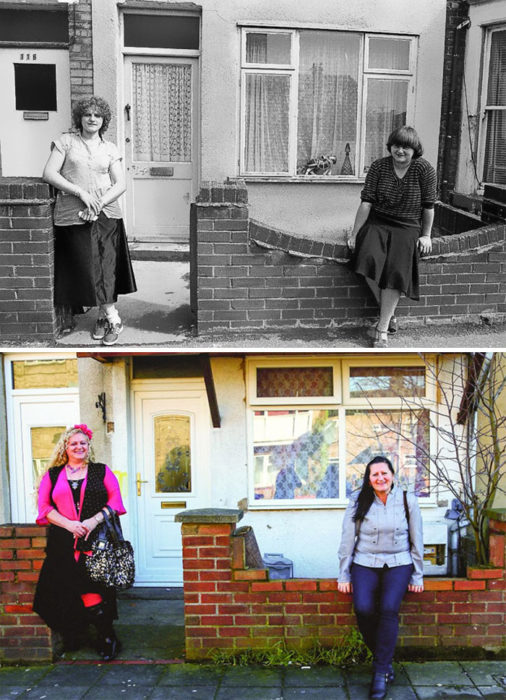 The sisters Maria and Annemarie were captured at Star Road. Years later, women of Hungarian descent continue in the city.
20. Assistant jewelry (1990 and 2015)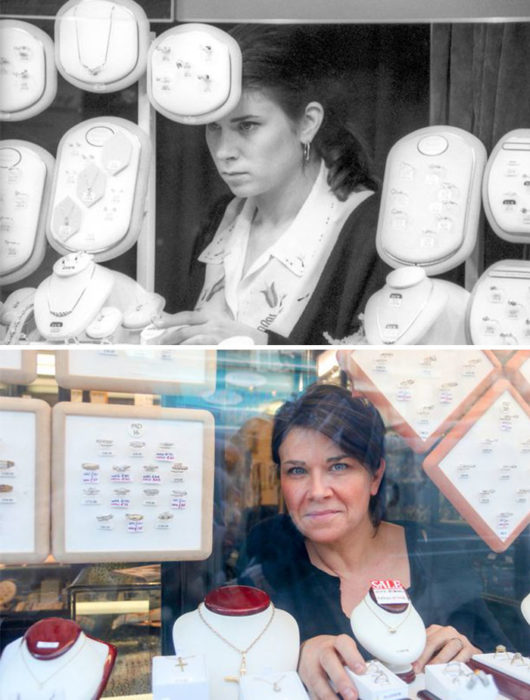 VICKI Gracey worked as a sales assistant in a jewelry mall for two years. Still lives in the city, he is married and has two children.
21. Chewing gum (1980 and 2012)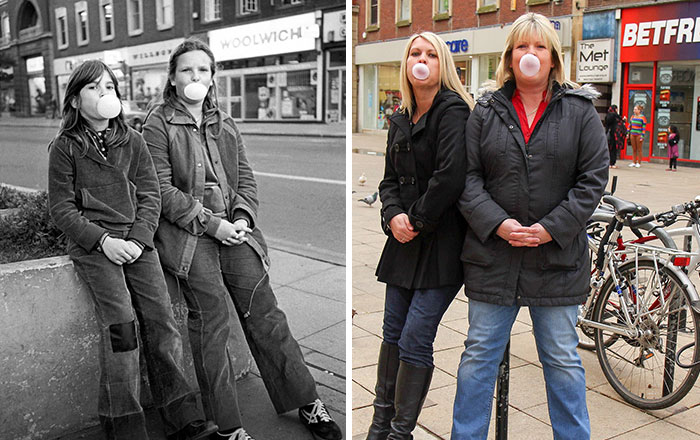 The sisters Anna and Emma were captured on Bridge Street while making bombs gum. Were 11 and 13 years, respectively, and were waiting for her mom. Now both are married and are mothers.
22. Before and after 40 years
Incredible comparison of time in this image of a family of three children and his mother.
23. First job (1982 and 2016)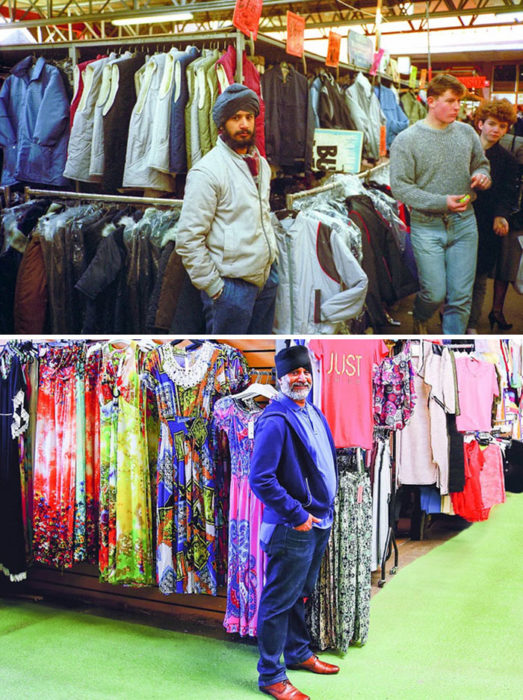 The first image was taken when Tasbir Singh was in his first job, working in the local market.Continues in the city, he is married and has 3 children and 4 grandchildren.
24. The Pied Piper (1986 and 2015)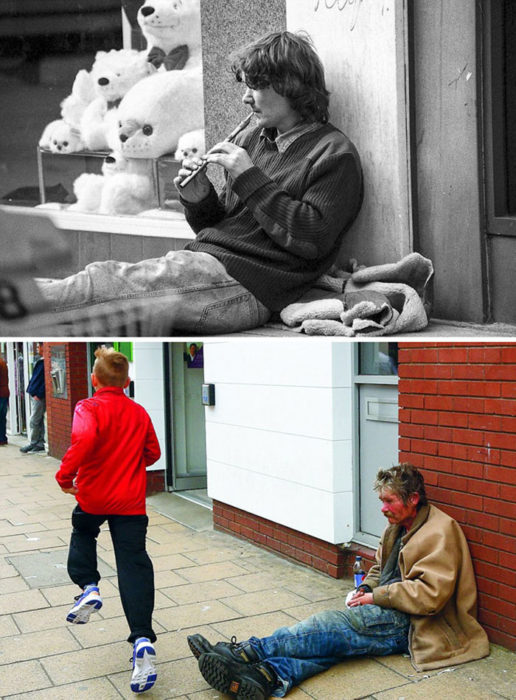 Neil wandered the downtown streets for many years, playing the flute in several places. When released the book including all photographs, Neil had disappeared several months.
25. Nobby (1980 and 2015)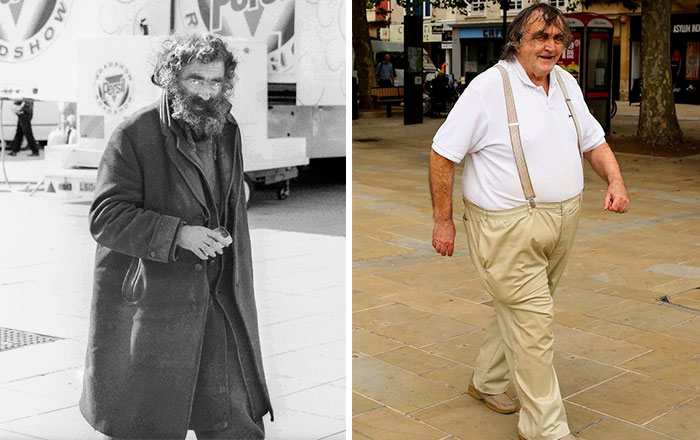 Nobby lived for 10 years in terrible conditions, after his house burned. Still he lives in the city.